It's just beginning and Silver is starting to look like it is just going to come bursting over the brim concerning demand. All the major bullion companies have issued warnings or halted orders due to the unprecedented demand. The best was Tyler Wall CEO of SDBullion who said it's like the entire population just got red-pilled. The incredible this is there is more than a story to this bull market in precious metals everything is rising and there looks to be a massive wave of support for the Wall Street Bets post about piling into SLV. I really don't understand how this is illegal though it just seems our Government has lost all sense.
The other thing Silver it's self is rapidly approaching $30 an ounce and with supplies dwindling it's likely prices could move much higher very fast. The other thing is the price of silver has been artificially suppressed for a long time and the system is not designed for wide spread adoption of silver and silver linked products, there simply isn't enough silver
It was the one print everyone was waiting for, and here it is: silver futures opened up 7%, surging from $27/oz to a high of $29.095 following a weekend of speculation that the next big squeeze on WSB's radar is silver. And whether that's true or not, may no longer matter in a world where – as described below – there is virtually no physical silver to be purchased.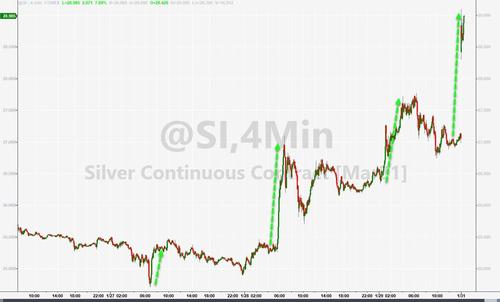 Spot Silver is back to its highest since the August/Sept cycle highs…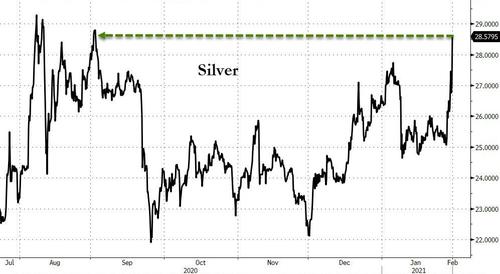 Gold futs managed very modest gains…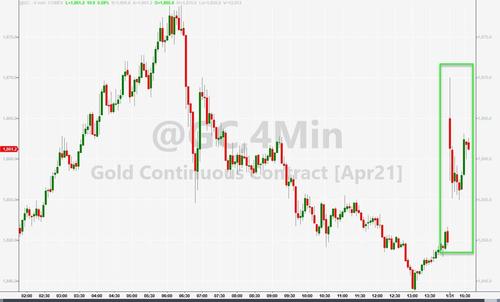 And silver's dramatic outperformance has pushed the gold/silver ratio to its lowest since 2014…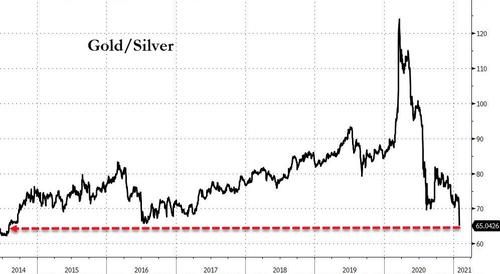 Silver miners are also getting the love: Australian silver stocks including Argent Minerals and Boab Metals rise more than 20%.
US Equity futures are taking a hit (all down around 1%)…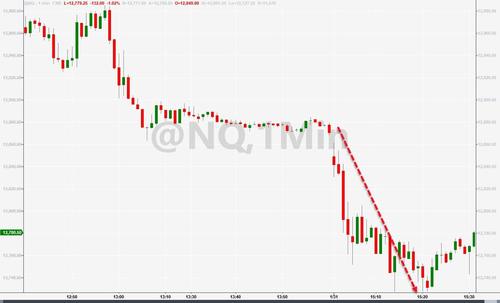 So as silver approaches $30, keep an eye on major price slams, emerging either out of central banks who desperately need to keep precious metals lower, or the BIS itself, whose Benoit Gilson will have a busy day tomorrow.