Prices Paid Surging, Historic Copper Shortage, Inflation Indicators Are Firing On All Cylinders. Copper is the first indicator as it surges toward all-time highs, Base metals are all soaring and silver is lagging. The US PMI data came out and prices paid by producers came in the hottest level ever recorded as manufacturers warn the price increases will be handed to consumers.
Historic Copper Shortage
The rumor terminating from Wall Street is base metals led by Dr. Copper are about to break records and wallets for producers. Demand is already outstripping copper supplies and this is a phenomenon underway among most of the base metals.
Inflation Indicators Firing On All Cylinders
Commenting on the PMI data, Chris Williamson, Chief Business Economist at IHS Markit, said:
"Despite headwinds of COVID-19, extreme weather and record supply chain delays, US businesses reported the fastest output growth for almost six years in February.
"The data add to signs that the economy is enjoying a strong opening quarter to 2021, buoyed by additional stimulus and the partial reopening of the economy as virus related restrictions were eased on average across the country.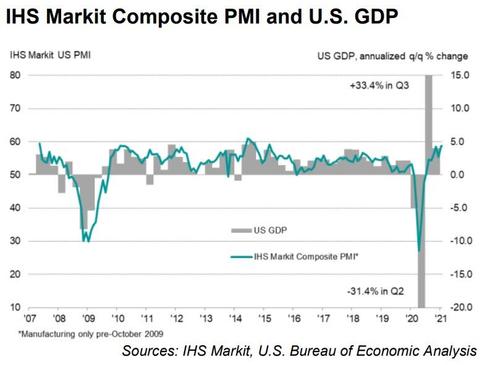 "Business sentiment remains buoyant, boosted by hopes of further stimulus and the vaccine roll out, but it's disappointing to see this not yet translate into stronger jobs growth. Many service sector firms in particular remain reluctant to hire, cautious about adding to overheads.
Don't miss Texas Blackout Costs Mexican Manufacturers $2.7 Billion
"A concern is that firms costs have surged higher, driving selling prices for goods and services up at a survey record pace and hinting at a further increase in inflation."
That last sentence is a little understating the matter.
Input costs across manufacturing and services soared higher as demand outstripped supply, rising at by far the steepest rate since comparable data were first available in 2009.
Service providers registered the steepest increase in cost burdens since October 2009, while manufacturers recorded the quickest rise since April 2011.
As a result, firms raised their selling prices at the sharpest rate on record (since October 2009), with panellists stating the increase was due to the partial pass-through of greater costs to clients.
Substantial price increases for inputs such as PPE led to the fastest rise in cost burdens since data collection began in October 2009. That said, more encouraging demand conditions allowed firms to pass on a greater proportion of the cost increase to clients through a marked rise in selling prices. The rate of charge inflation was the second-fastest on record (behind only November 2020).