NYC Destroyed, The Elite Now Sets Sights On Florida With Domestic Travel Restrictions, Non-Essential Industries, And Businesses Doomed
They intend to rid the world of what they consider "Non-essential" small business owners who stand in the way of their sick obsession for total control.
Don't Miss Yesterdays Content About All The Ways The Government Is Ripping Us Off In This Spending Bill
They are changing tax laws, rerouting flights, and actively discussing shutting down all domestic travel to the states that are succeeding economically like Florida. This is a full-scale economic war and they are altering regulations tailored to put these entrepreneurs out of business for good. I frequent every restaurant and small business in my town and deny my business to stores that are choosing to harass their customers on behalf of the NWO. I have a mind to start calling managers and explaining how they can subtract my money from their monthly income because the time has come to choose between the Governor and your customers.
They are also waging economic war on individuals like Mike Lindell from My pillow and all He did was refuse to agree with the cartel and now they are seeking to destroy a mans life and business so be sure to purchase a MyPillow if you haven't yet to counteract the "Buycott". regardless it's not like the left was ever Mr. Lindell's main customer base.
NYC Landlords Are Desperate For Tenants
according to Bloomberg.
Appraiser Miller Samuel Inc. and brokerage Douglas Elliman Real Estate published a report this week that showed the value of incentives for new tenants averaged out to 2.3 months of free rent in January, the most on record.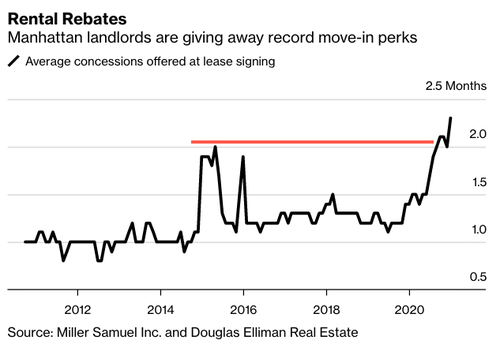 "You've got to keep sweetening the pot," said Jonathan Miller, president of Miller Samuel. He added the purpose of incentives is "to temper the decline."
The "decline" Miller refers to is the plunge in the borough's residential real estate market following the pandemic. Work-at-home continues to dominate as office buildings remain empty. Tens of thousands of city dwellers have moved to suburbs or rural communities to escape the metro area's socio-economic implosion. All this has culminated into record-high inventory, and a sharp drop in rental rates as supply becomes an issue.
However, there was some good news. Last month, new lease signings soared 58% from a year earlier to 6,255. Even with the influx of new tenants, inventory still sits at a decade high.
The last year has been painful for landlords. In a past report, Miller warned that a surge in new leases should not be viewed as an "imminent recovery."
This is Full-Scale Economic Warfare
Now we brought up the fact in a previous episode that they are discussing travel restrictions for some of these new economic mecca's to try to stop the outmigration from the East and West coast economic dead zones. This is being done because the Airlines don't even find it economic viable to service what used to be the hottest destinations in the Country. This is their answer to major economic growth in Florida and Texas.
Domestic Travel Restrictions On Florida Make Sense Now…
From Zerohedge
Struggling airlines such as United, Delta, and American airlines have dealt with the most challenging year in their companies' history. Even with vaccine rollouts, 2021 business travel demand is not lifting off as previously anticipated, resulting in airlines routing flights for leisure travel, to areas such as Florida, according to Bloomberg.
Travelers departing from Boston, Cleveland, Milwaukee, and Indianapolis have noticed an abundance of non-stop flights to warmer regions in Florida such as Fort Lauderdale, Fort Myers, Orlando, Key West, and Tampa.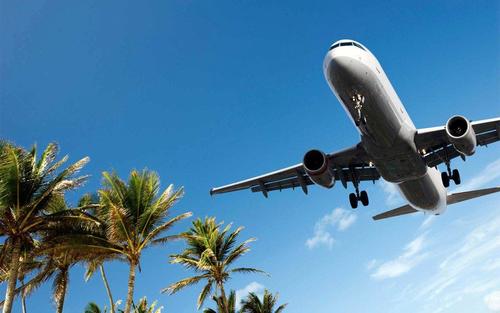 Ankit Gupta, United's vice president for domestic network planning, said this has to do with "demand." He said, "the sunshine states are seeing much more travel demand than before, on a relative basis, while it evaporated in the Northeast."
Another high demand area is Los Cabos, Mexico, said Paul Tumpowsky, founder and chief executive officer of high-end travel agency Skylark.
Tumpowsky said flights from the Northeast to Los Cabos, Mexico, were increased by United, Delta, and American this winter as demand for warmer climates booms. He said the ease of access to warmer areas such as Hawaii, Guatemala City, and the Caribbean with non-stop flights would soon increase among other carriers.
Routes from Northeast states to Europe will likely remain limited, said Patrick Quayle, United's vice president of international network and alliances. He noted entry requirements that range from vaccine passports to quarantines would continue to suppress demand for European travel markets.
As of January, seat capacity remained at 50% compared with the same month last year. Travel analytics company Cirium estimates that 30% of the global commercial airplanes are in storage.
Airlines are becoming more data-sensitive and will shift flights to hotspot areas. Savvy travelers are taking advantage of cheap airfare this winter to beach towns in the tropics.
So with airlines ditching business hubs and rerouting flights to tropical beach towns, the shift in travel type might forever change as companies adopt remote working. Goodbye business travel means the airline industry may experience a permanent decline.