The Losses continue to mount from the Wall Street Bets short squeeze on Melvin Capital, but first, let's talk about the decline of the Eurozone We should not expect their economy to do well, nor should we be describing what they are doing to the economy and stocks as a recovery of any shape, They are almost entirely at the mercy of the Globalist deciders and they have decided on a Great Reset but some call it the Build Back Better. This plan entails eliminating all Non-essential businesses to save the planet from a "climate crisis" The goal is to bankrupt companies and clear out small businesses by any means necessary. It's interesting how the unrest has affected real estate in certain major cities. Maartje Wijffelaars, Economist at Rabobank detailed some of the damage.
Summary
The Eurozone economy contracted with 0.7% q/q in the final quarter of last year
This means the economy shrank 6.8% in 2020, which is less than expected after the gigantic losses in the first half of the year
Going forward, the apparent resilience of the economy, very much reinforced by government support measures, bodes some comfort
That said, the third wave and accompanying containment measures likely lead to another GDP contraction in Q1
Moreover, new mutations, a slow vaccination trajectory and resurfacing supply chain issues could hamper the recovery for some time longer
Economy contracts in Q4
This morning's GDP figure for the Eurozone shows the economy contracted in the final quarter of last year with 0.7% q/q (figure 1) and 6.8% in 2020 as a whole – compared to 3.7% in 2009 (figure 2). Hence the second COVID wave that started end-summer delayed the recovery, as expected, but the overall economic drag of the virus upsurge was smaller than the consensus only a few weeks ago. This story that holds for most member states, as we also explained in a note last Friday. Spain outperformed the group with small growth of 0.4% q/q, while Austria was the weakest link, contracting by 4.2% q/q.
A breakdown into expenditure components or sectors for the Eurozone is not yet available. But based on member states' data, we know that the service sector took a small hit, while manufacturing sector activity increased. Both activity in the service sector and the manufacturing sector seem to have performed better than expected. There are several reasons, yet an important one is that in general the economy seems to be better able to cope with restrictions than expected based on experience in Q2: more restaurants do take-away, more shops sell online – more people buy online -, and working from home facilities have improved.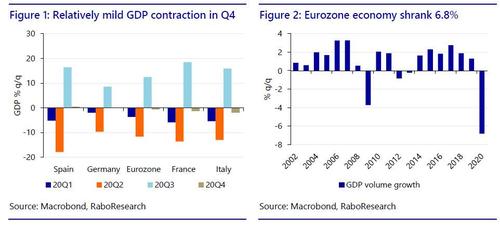 They seemed to have struck a nerve on Wall Street and it's kind of funny watching everyone scramble to shut down any organization of underdogs intent on disrupting the status quo, which sucks by the way. The forces we fight in the US are the forces that control the media, the internet, what speech is allowed, and they have total control over the European peoples.
There has been a frenzy of bailout activity from some of the giants that were targeted by the Wall Street Bets short squeeze and Robinhood was seeking new capital following their stunt. There is also a move brewing for people to leave Robinhood since it is acting as a tool for the Elite to mine retail investor data and manipulate the stocks they tell you to buy. Most of the top stocks are evil companies anyway and if you haven't been paying attention when your funding, Facebook, Alpha, Apple, Twitter, you are funding an overthrow of our liberty.
From Tyler Durden
One week after Steve Cohen's Point72 invested $750MM in Melvin (No) Capital alongside Citadel's Ken Griffen, only to suffer immediate losses as Melvin – run by Cohen's former PM Gabe Plotkin – saw its losses balloon from 30% to 53% in just a few days as the marketwide short-squeeze forced the fund to unwind its billions in shorts at massive losses, and just one day after Charli Gasparino reported that Cohen opened his fund to new investors "amid losses at firm due to exposure to Melvin Capital", the hedge fund has already secured a whopping $1.5 billion in commitments in a matter of days, Bloomberg reports citing people familiar with the matter.
Yet while Gasparino reported that Point72 was rising the capital in response to its Melvin Capital losses – and one certainly can't deny that the timing is quite peculiar – according to Bloomberg, Point 72 "is raising the fresh cash because it sees investment opportunities in the market."
Right – the same way that Robinhood just raised $4 billion because it is "seeing a flood of new clients."