So we need to talk about basic human rights and discrimination. The people claiming to fight discrimination and defend democracy, in reality, are secretly oppressing all Americans and discriminating openly against anyone who refuses to obey the government, and destroying "democracy". The very thought of democracy is an evil on the earth and there are very critical reasons a republic was established in the United States and they are as different as night and day. A constitutional republic secures the individual rights of every free-born citizen regardless of popular opinion, a democracy is a fancy word for mob rule or communism.
The very name of Republicans and Democrats are working on two entirely separate visions for America. In the end, both sides are exactly the same and the entire deep state complex is working feverishly to silence all dissent. Did you notice how quickly the deep state frauds pointed to libertarians as people the government should begin to persecute despite no evidence that people who believe in freedom and the constitution are any threat?
CNN tells Americans to prepare for vaccine passports, Subscribe to our backup channel
vaccine passports and social betrayal among fellow neighbors violate basic human rights, the truth is this is the great reset, and Bill Gates began this conversation about governments making all of their subjects buy His experimental products without any safety testing or approvals for safe use. Bill Gates is the source of the vaccine passport idea because He is who is making the vaccines. We need to fight back against fascism and communism regardless of what the media says. In Myanmar they are being killed every day because they want their right to vote, in America, they piss in our face and call it rain and we run and hide because the media calls us bad guys.
RECORD-ER GUN SALES! This is what American's think about the recent events and insane calls to strip the constitutional rights of American citizens
It's not all bad news, I am not defeated, but more importantly We the people are not defeated. Just one look at the record FBI background check data in March with 4.8 million for a single month, a few years ago that was closer to 1 million a year, The number of gun sales was closer to 2 million since the FBI data includes other variables. That is the second-highest in history.
What I want to know is what message are Americans sending about gun control, there have been record sales since Nov, Americans have begun amassing an unheard-of volume of arms and ammunition, people complained about powder shortages and thought it was a setup, I think America has had enough and is preparing to defend her freedom against all enemies. If I were a communist gun-grabber I would probably hit the brakes and realize in America we are Free people and have the right to bear arms, specifically, the government does not have the right to infringe on our right to keep and bear arms. Gun control must be resisted even if it was voted in with unanimous support from both houses and the president. That would just mean they have passed their usefulness and a new government must be established to safeguard the liberty of every man and woman
Local news KHON2 said state officials could soon roll out a health passport app that details vaccination history. Lt. Gov. Josh Green confirmed an app is in development called "First Vitals." Officials have discouraged inter-island travel as the U.S.'s only archipelago state composed of eight islands in the North Pacific Ocean was forced to deal with a massive influx of travelers from outside the state during the pandemic. Many folks who flocked to Hawaii were escaping the pandemic or took advantage of cheap flights.
Like existing COVID passes issued by other countries, Hawaii's vaccine passport will provide officials with a QR code to authenticate the users' vaccination history.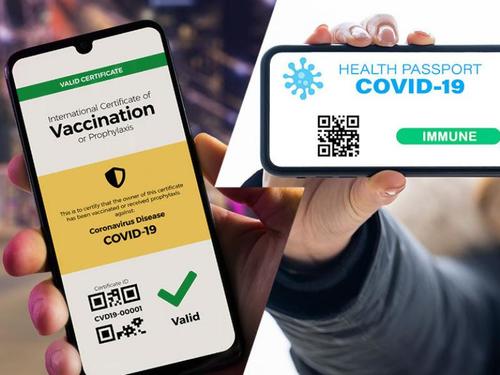 "They would be able to verify the health record, they would then encrypt it so people can't steal someone's health record. Although really, all it is is whether you got vaccinated or not and your name and the date it occurred," said Green.
Now that Hawaiian residents are getting vaccinated, inter-island travel is set to increase this year. Health passports could be what revives the state's tourism industry.
"That's what we see, families that haven't seen each other for a while that live in Kauai, Maui, Hawaii Island, Oahu. And this will allow that kind of travel to take place without the additional cost of being tested," said Mufi Hannemann, president and CEO of the Hawaii Lodging and Tourism Association.
Green said a pilot test of the new vaccine app for inter-island travel could happen in the next couple of weeks. "I think that makes a lot of sense. It would immediately empower probably about half of our travelers inside the islands to travel safely," he said.
On a national level, vaccine passports could soon become a reality. The Biden administration said earlier this week that the private sector would be in charge of developing digital passports.
We have documented the increased rollout of digital proof of vaccination. The International Air Transport Association recently said a new travel app (called Travel Pass) would be rolled out for airline travelers worldwide.